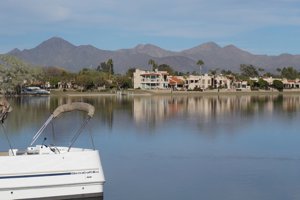 McCormick Ranch is a lush green master-planned community primarily bound by Indian Bend on the south, Scottsdale Rd on the west, Shea Blvd to the north & 96th St to the east. There are a few little zigs & zags & a chunk carved out for Gainey Ranch in the northwest corner of the area. It was originally privately owned as a horse property and eventually subdivided into the McCormick Ranch we know today.
It's greenbelt runs from Shea south along Hayden Rd & eventually converges into the Scottsdale Greenbelt that connects Scottsdale to Tempe. It's interconnected trails are a distinguishing features that attracts residents who enjoy running, biking or walking in the lush, relatively "un-desert" landscape. There are also several lakes in the area which allow residents the privilege of having water and even a dock in the space of their property.
It's signs are a distinct brown, with gold lettering.




Insider tip!
Did you know you can make it to Scottsdale Fashion Square/Scottsdale Waterfront on pedestrian trails from McCormick Ranch? Watch & find out how: